FINAL TSO RACE CANCELLED, REPLACED WITH AWESOME IRISH SPRING FLING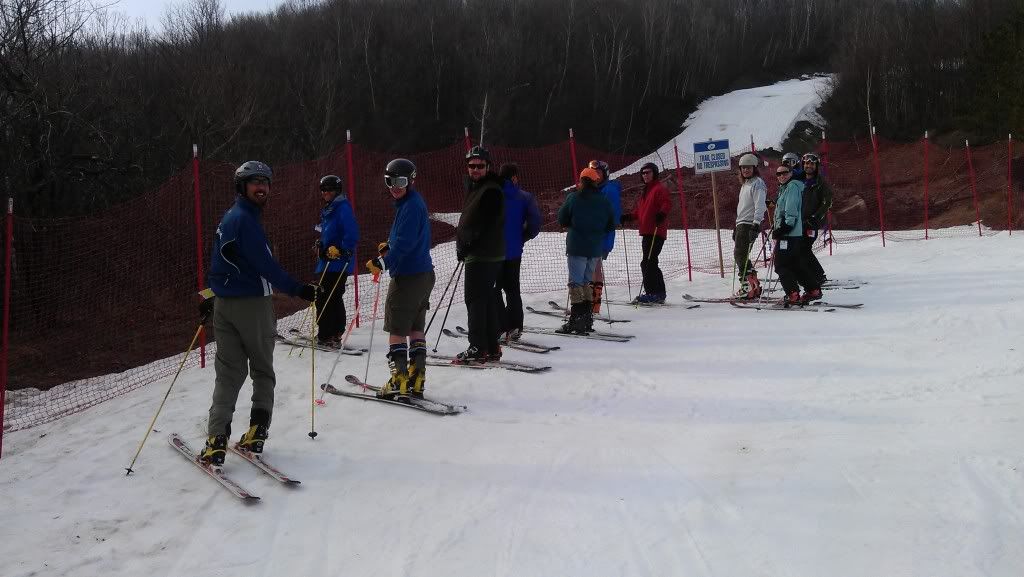 It was with great disappointment that TSO had to advise members last Friday, March 16th, that the race had to be scrubbed due to an unsafe race environment. 16 diehards came out to ski in what some would call, summer conditions, to work with Rob Henderson to share important personal learning points/highlights of the season with each other, it was a wonderful cooperative experience. The day started with a tour of the now infamous mudslide that nearly swallowed four homes in Craigleith at the end of last week. Some members even braved the very granular snow by wearing shorts and short sleeves and had skinned knees and elbows to show. Final race standing awards were presented afterwards. Special Thanks to Stephen Corner "Steve the Potter" for his unique design of the overall winner awards. Thanks also goes to our series sponsors; Mountain Equipment Coop, Rossignol, Ski Telemark, Sojourn, The Weathervane, White Squall. Thank-you also to the resorts for there support; Mount St. Louis Moonstone, Caledon Ski Club, Mansfield Ski Club, and Alpine Ski Club. A very special thank-you is extended to the fabulous volunteers who were gate judges and chief of judges.
In all, it was a great way to closeout a difficult season. Let's hope some snow can survive the heat so we can get at least another day in.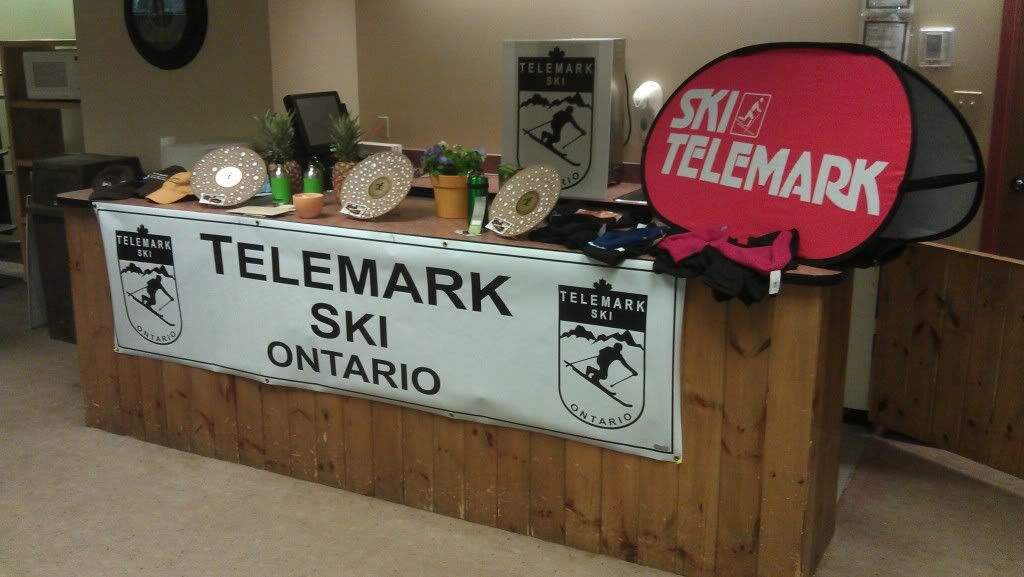 ---
FINAL TSO SLALOM RACE at ALPINE SKI CLUB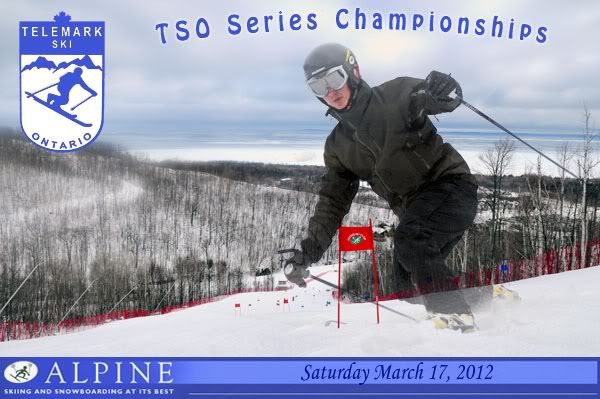 Don't forget to come out and support the fastest action on bent knees. TSO is hosting its final race of the season, Saturday, March 17th, at Alpine Ski Club. Registration is 8:00 AM until 9:30 AM, Course inspection at 9:30 AM. This race will decide the overall winners of each classification, including the new team class. Also, don't forget to wear green as St. Paddy's Day happens to coincide with our race. See you at the races!
---
TSO Giant Slalom Race Report from Mansfield Ski Club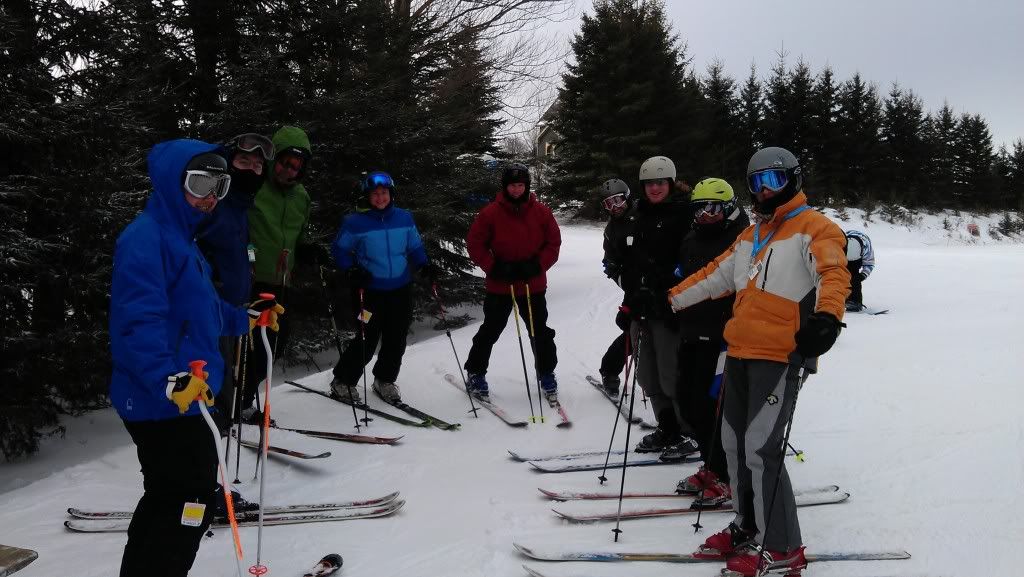 TSO members developing ski technique with CANSI and Ski Telemark instructor, and TSO member Robert Henderson.
Telemark Ski Ontario members were blessed with a beautifully cold morning that motivated them to keep moving to stay warm. The morning was spent with Rob, developing a wider stance and quicker turn initiation in a variety of terrain at a variety of speeds.
After lunch, TSO members got to showcase their talents on Devil's Stairway. Gord Manual and his race crew set a very rythmic course, THANKS! The racers were very impressive with the consistency of runs they put togehter, sometimes less than 1/2 a second difference between runs.
A big thank-you to our host and sponsors, Mansfield Ski Club, Mountain Equipment Coop, Rossignol, Ski Telemark, Sojourn, The Weathervane, White Squall.
Don't forget to Checkout and patronize TSO's official photographer Brian Backland's website. There are always really awesome shots of all the racing action.
---
TSO Giant Slalom Race Report from Caledon Ski Club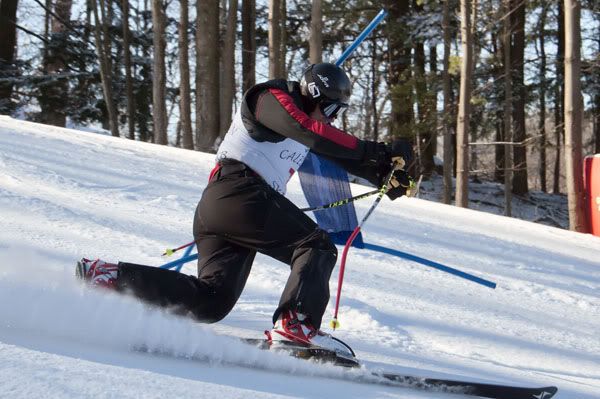 TSO member Jody Miller. Photo courtesy of Brian Backland Photography,
Telemark Ski Ontario's 1st race of the year was a tremendous success. Racers awoke to a fresh blanket of snow, some members had to travel in near white out conditions. Upon arriving at Caledon Ski Club, racers were welcomed with clear skies and beautiful conditions. Ullr smiled kindly upon us. The race was held on Knight Flight. Many of the racers could be overheard discussing the excitement of adrenaline pumping through the body as they anticipated the starter calmly stating, "skier ready! 3-2-1…". All racers rose to the challenge of the course.
The afternoon featured a great clinic with Mark "The Coach" Kinoshita. Members spent time practicing starting, jumping and landing in the Telemark position, and finally angulating and holding a carving position. The event filled day ended with individual and team awards, and swag from our generous sponsors.
Telemark Ski Ontario would like to thank all of racers and officials who took the time to come out and support this graceful sport of ours. Telemark Ski Ontario also thanks our gracious sponsors, Mountain Equipment Coop,Rossignol, Ski Telemark, Sojourn, The Weathervane, White Squall, and especially Caledon Ski Club for hosting our first event of the year.
The second event will be held February 11th, 2012 at Mansfield Ski Club, see you there.
Please check the results page for a brief synopsis of the awards. Full results will be posted as a link shortly.
Checkout TSO's official photographer Brian Backland's website to view and purchase photos of yourself.
Free The Heel, Ski For Real!
TSO
TSO Skills Camp A Success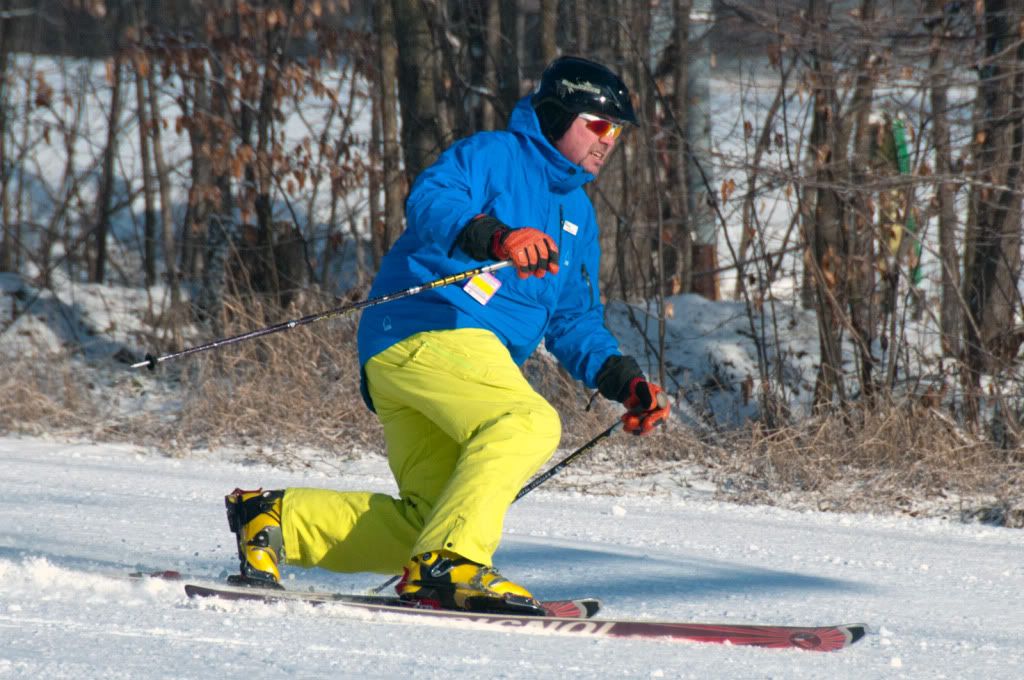 Checkout Brian Backland's website to view and purchase some photos of yourself.
Skills Camp was a definite success. There was a good turn out at MSLM, even if the ground was still green/brown in the city. MSLM staff worked wonders and the conditions were great. Thank-you to the Huter Family and Jim Morris of the MSLM ski school for making the camp possible for a second year in a row. I know the camp, led by TSO coach, Mark Kinoshita, was successful by the comments made by the partarticipants. Their legs were sore and wobbly. It was a most excellent way to get into ski shape for the season. Mark definitely kept us on our toes, literally!
TSO wishes you and yours all the best for the upcoming year.
We hope that you are able to attend our second event, a GS race, at Caledon on January 21st, 2012.
FREE THE HEEL, SKI FOR REAL!
---
IT'S ON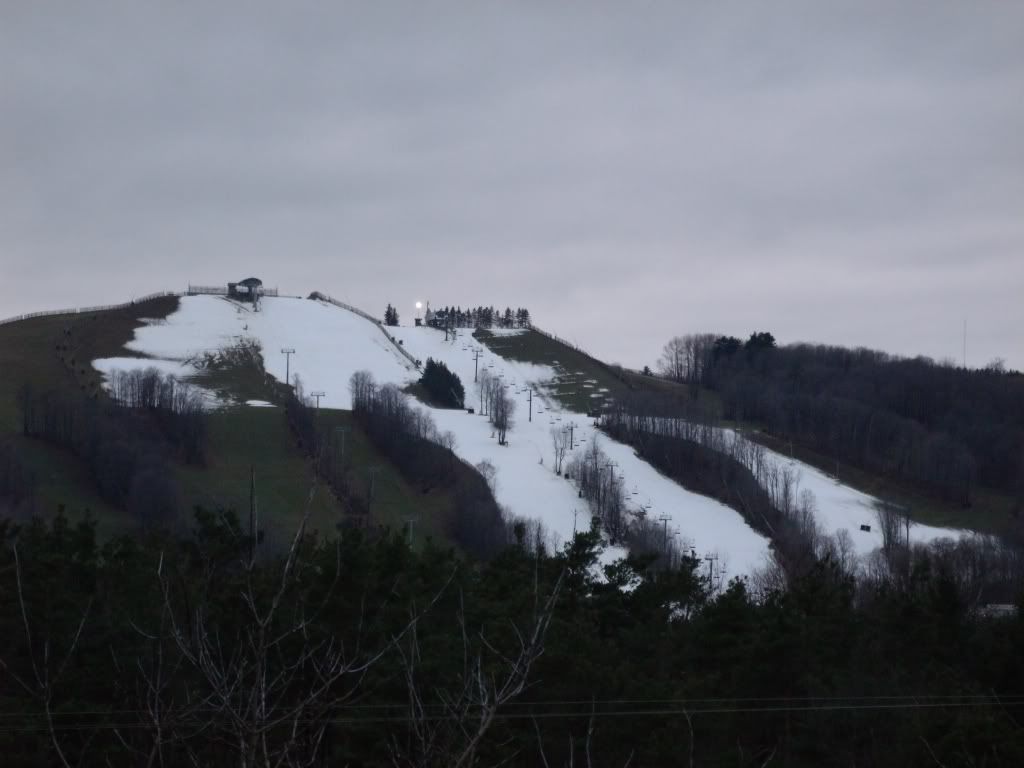 Plan to come to TSO Skills Camp this weekend, MSLM will be opening tomorrow, this means camp is a go as well as Ski Telemark's 27th Annual Warm-up Day.
See you there for all sorts of Free-Heel fun!
---
Where in the World is UllR?
If you are unaware, Ski Telemark has had to postpone their 27th Annual Warm-up Day at Mount St. Louis Moonstone as there is not much in the way of snow on the ground. It will be held on December 17th.
Telemark Ski Ontario will continue to hold it's 2nd Annual Skills Camp on December 17th and 18th. This means some of us will have a decision to make on the 17th, which can be seen as a good thing as there will be a lot of free-heel action going on. The TSO Camp features TSO coach, former National Telemark Ski Team member, and CANSI level II instructor, Mark Kinoshita, as well as five time INTER-SKI Canada member and CANSI level III instructor, Rob Henderson. I encourage you to come out and start your ski season off with a great opportunity. Please email TSO at telemarkskiontario@yahoo.com or Ski Telemark atSkitele@eagle.ca to advise us of your intention to join us. The cost for the camp is $90.00 each day or $160 for the weekend.
---
Welcome Back Fellow Free-Heelers
Are you ready for a new season of activity? Ski Telemark, Sojourn, and Telemark Ski Ontario started the season off with the annual "Free-Heel Gear-up", night on Novevmber 10th, in Barrie at Sojourn. There were representatives from Black Diamond, Rossignol, Scarpa, and Brian Backland Photography. They brought along boots and skis for participants to try on. This was an extremely busy and informative evening and was a great way to build pre-season anticipation and excitement. Photos to follow shortly.
On Saturday November 12th, MEC hosted their first Snow-Fest. This event was also a great success. David Kilbourn and Keith Woods represented Ski Telemark and Telemark Ski Ontario. They were very busy all day long, promoting our graceful sport. There were many clubs and organizations in attendance to answer questions, or to just meet people and talk about what we all share in common, "Wintery, Outdoor Fun". If you were not able to attend, don't despair, you can still visit the Burlington MEC store, Saturday, November 19th. For those of you north of the city, you can visit the Barrie MEC store, November 26th. Times for these events are 9:00 AM until 5:00PM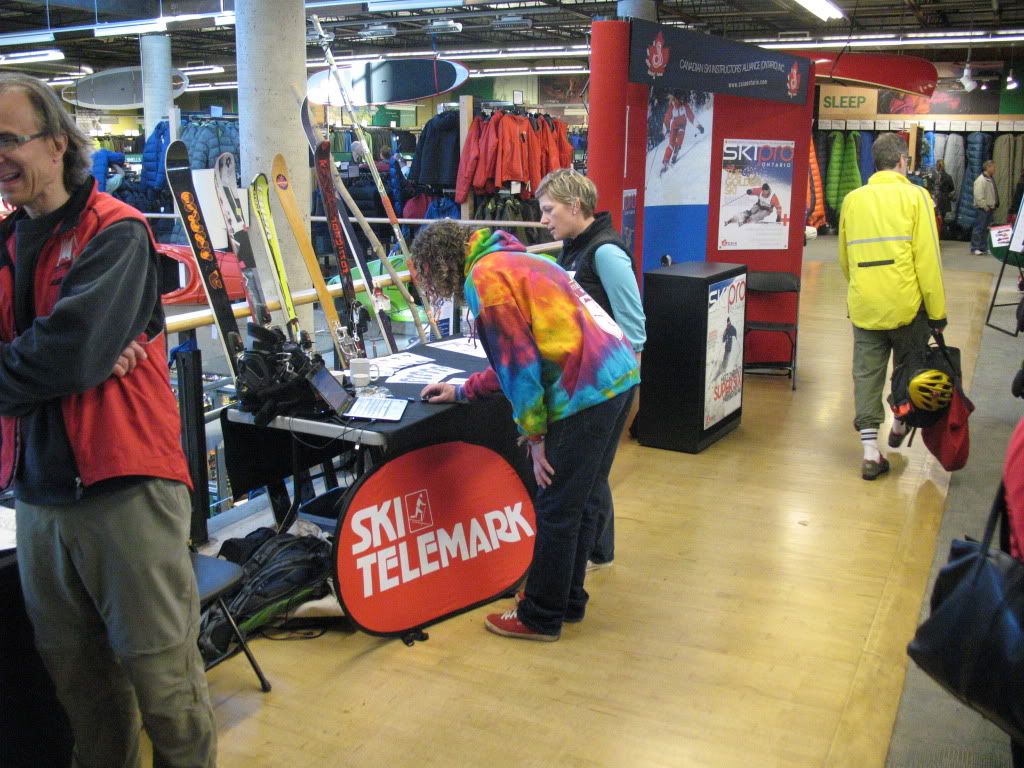 We encourage everyone to come out and support your favourite activities