TELEMARK SKI ONTARIO 2012-2013 EVENTS
---
As the saying goes, "we're off to the races". TSO's main event starts February 9th at Mansfield Ski Club. Our first race will be a Giant Slalom. There will be a clinic in the morning followed by the race in the afternoon.
TSO is also having a team category again this year, this proved to be a very positive feature at our events during last year, and it gives us more time on course. Teams are made up of two men and either a woman or a junior. Get your team together and come up with a funky name.
Cost for each event is $85.00, inclusive of lift ticket, and $55.00 for private club members using an exchange ticket. The early bird rate is $245.00 for the series and $215.00 for private club members. A $20.00 memberships is required. Fees for entering a team is $15.00 per member of the team for the series.HELMETS ARE MANDATORY
Registration at all events is 8:00 AM- 9:30 AM at the respective resorts.
TSO Race Series
February 9, 2013
Giant Slalom Race
Mansfield Ski Club
February 17, 2013
Sprint Classic
Caledon Ski Club
March 9, 2013
Telemark Ski Ontario Series Championships
Giant Slalom Race
Beaver Valley Ski Club
February 23 & 24, 2013
Eastern Canadian Cup
The Eastern Canadian Telemark Cup is being hosted by Calabogie Peaks Resort and Telemark Ski Ontario, February 23rd and 24th. The weekend unfolds on Saturday morning with clinics on skating technique, jumping, and skiing around gates. Saturday afternoon is free skiing as well as an Apres Ski in the Black Donald pub featuring live R&B music. Sunday morning brings the weeken…d's highlight, the modified Sprint Classic Race, followed by more free skiing. Later Sunday afternoon is the finale with the awards. There are categories for youth, adult, and master racers, for both competitive and novice skiers.
This weekend is primarily intended to foster free-heel camaraderie. Many free-heelers ski in relative isolation and this event is TSO's first attempt to bring you together in one spot for a rockin', fun, free-heelin' time. Cost for each day is $70.00 (inclusive of lift ticket) or $130.00 for the weekend (inclusive of lift ticket)
Calabogie Peaks Resort has put together an accommodation package that includes lodging at the resort as well as breakfast. Contact the resort directly at 1-800-669-4861. You must mention that you are there as part of the Eastern Canadian Telemark Cup group.
This event has been in the planning stages for a few years and we are very pleased to see it come to fruition. TSO, Telemark Quebec, and Calabogie Peaks Resort hope to see you there.
Calabogie Peaks Resort.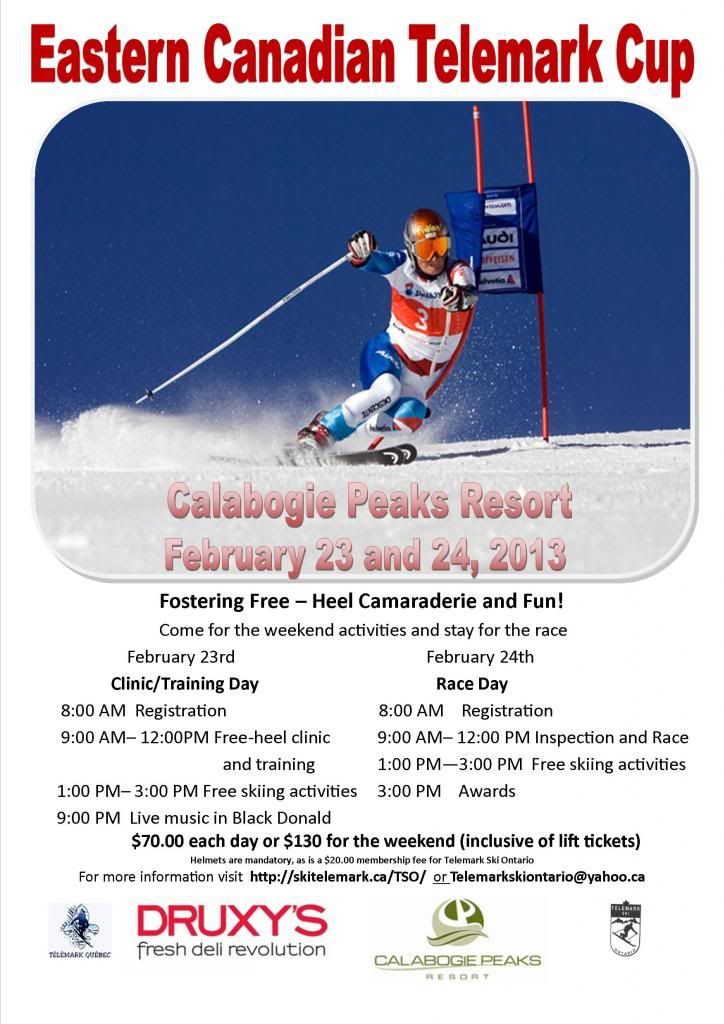 Ski Camp
December 15-16, 2012
Mount St. Louis Moonstone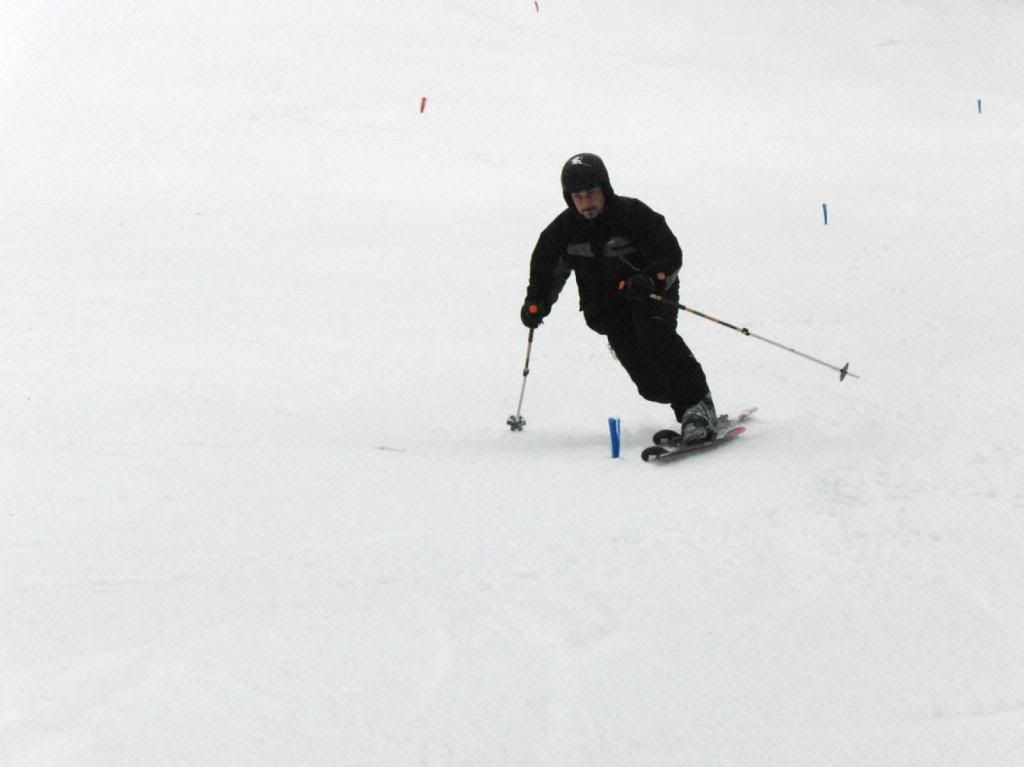 Our new friend Sebastiano adapting to his new ski style. You are looking more like us, now!
Last Saturday and Sunday TSO hosted the Annual Ski Camp that was attended by 15 participants. Coach Mark put the rain braving soles through a variety of exercises to improve our ski technique, and at times challenged some of us quite a bit with what he asked us to do. Once we finished working on ski technique we wer then challenged by utilizing these skills to run a short course of brushes. Many of the participants saw their overall ski technique improve over the span of the one or two days. Brian Backland was in attendance on Saturday to video the participants so we could see what Mark was trying to get across to us throughout the day. The video also allowed us to see the progress of each of the participants.
A very big thank-you goes out to Jim morris, director of MSLM ski school, as well as the entire Huter family for working so hard to get as much terrain open as they were able to.
Enjoy any time you may have off over the holidays with family, friends, and hopefully you'll be able to ski.
Join Telemark Ski Ontario as they host the first Eastern Canadian Telemark Cup at Calabogie Peaks Resort. Skiers from across Ontario, Quebec, and Upstate New York will converge on Calabogie Peaks Resort for a weekend of Free-Heel skiing fun and activities, which will be highlighted by Telemark Giant Slalom race on Sunday morning.
Festivities begin on Saturday morning with free-heel ski skills clinics followed by gate training, all under the coaching of Telemark Quebec's Stephane Perrault. Saturday afternoon will focus on Free-Heel free-skiing and highlighting what can be accomplished by Free-Heel skiers. Apres Ski is in Black Donald's Pub where there will be live music and telemark films on the screens.
After a well deserved sleep, Sunday's highlight is the Telemark Giant Slalom race featuring a jump (or a detour gate for those less inclined racers). Sunday afternoon will again focus on free-skiing and awards starting at 3:00 PM.
Plan to join us for a rocking weekend of friendship building, ski development, and racing. The racing activities are specifically designed to be inclusive of all ages and abilities.